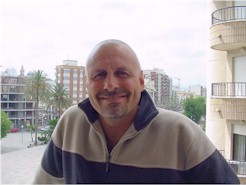 This is just stuff about me.  I'm from Edinburgh, Scotland.  I lived in Wiltshire in England for 12 years before moving out to the Costa Blanca area of Spain in 2003 where I live today.
Its warmer here and I love the sun.
My hobbies are Computers, Swimming, Music and Natural Health related things.
I have just started meditating with the Holosync system and it has a tremendously calming affect on me. I'll write up more about it in a blog in a few weeks time when Ive finished the first part of the course.
---
Written by

Mick Graham
Seems like I don't practice what I preach. :(
I appear to be putting on weight again and generally feel a bit bloated. And I know that it is completely within my power to get a flat stomach and feel absolutely wonderful without much effort. 
However, I'm eating too much sweet stuff and drinking too much wine and not doing any exercise. There's not much more to it than that.
Over the next few weeks I'll be documenting my regime for getting my health back on track.