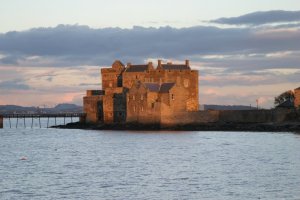 I was born in Edinburgh, the capital city of Scotland and lived there until I was 10 years old. Then we moved about 25 miles north east to a small village called Blackness. Blackness is a magical place for a kid as it is on the River Forth and it has a Castle. It is also very close to some other historical landmarks like Hopetoun House and The Binns.
There we many farms and market gardens so when we were not at the beach or lurking around the dungeons of Blackness Castle, we were helping the farmers stack the Hay or picking Strawberries, Raspberries or Blackcurrants. And if we werent doing that then you might have found us sneaking into the orchards stealing apples. Well we were just kids :)
Anyway I stopped that when I was 35... just kidding.
Although Blackness was great at that time, it is quite far from the big cities and unless you are old enough to drive, it can be a bit quiet in the winter months. That didnt affect me too much because at 15 I applied to join the Royal Navy and was accepted to join just 3 weeks after my 16th Birthday. Goodbye Blackness... Hello World.